2015 Annual Conference Attractions
---
---
Deschutes Brewery & Public House
Deschutes Brewery's Portland Public House opened in the Pearl District in May 2008 and has become a destination for great beer, delicious food and a relaxed urban atmosphere. The pub's distinct Northwest style brings a taste of Central Oregon to the heart of Portland. This Portland brewery's 18 taps feature Deschutes Brewery year-round and seasonal favorites, including flagship beers Mirror Pond Pale Ale and Black Butte Porter, as well as a selection of experimental beers developed and brewed on-site
Coppia Wine Bar
Located in Portland's Pearl District, Coppia celebrates the cuisine of Piedmont, Italy and specializes in wine and food pairings. Coppia's menu suggest wine pairings for each dish and most remarkably, every wine suggestion here is available by the reasonably priced glass or half-glass, making a vineyard four a highly feasible addition to your meal. The venue is praised for its unpretentious fascination with wine creating a bit of heaven on earth for wine and pasta fans.
Powell's City of Books
Powell's City of Books is a book lover's paradise, the largest used and new bookstore in the world, open 365 days a year. It's located in downtown Portland occupies an entire city block, and stocks more than a million new and used books.
Nine color-coded rooms house over 3,500 different sections, offering something for every interest, including an incredible selection of out-of-print and hard-to-find titles.
Participants will have the opportunity to visit the Basil Hallward Gallery (located upstairs in the Pearl Room) which hosts a new art exhibit each month, as well as dozens of author events featuring acclaimed writers, artists, and thinkers such as Roddy Doyle, Joyce Carol Oates, Michael Chabon, Annie Leibovitz, and President Jimmy Carter.
Participants may also choose to visit The Espresso Book Machine® in the Purple Room to publish their own book or print hard-to-find titles, all in the time it takes to make a cup of coffee. Finally, Participants will have the chance to browse the City's Rare Book Room, which houses autographed first editions and other collectible volumes for readers in search of a one-of-a-kind treasure.

Portlandia Free Walking Tour
Join us for a laugh-out-loud comedy tour about Portland's history and culture. Participants will be afforded the opportunity to Explore Old Town, Chinatown, and the Pearl District while being treated to ghost stories, photo ops, and inside tips on restaurants and nightlife. Participants will be afforded have the opportunity to plug into the true local coffee, art, gallery, bicycle, beer, shopping, hiking and weird scene and hear about the Shanghai Tunnels, Voodoo Donuts, food carts, green Portland, the best happy hour, the best cafe, the Japanese Garden, the Columbia River Gorge, and much more.
The tour will leave from Pioneer Square. Although there is no fee for the tour, participants are encouraged to support the young, entertaining guides who work for tips. Participants may reserve their spot at registration.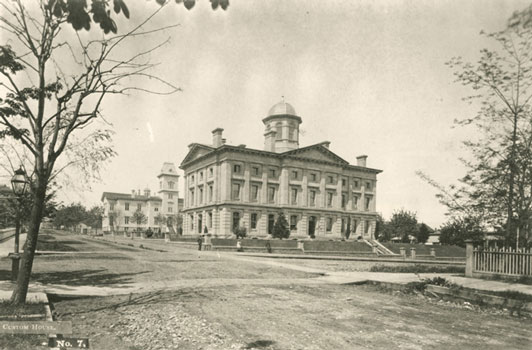 Historic Pioneer Courthouse Tour
Pioneer Courthouse, in Portland, Oregon, has been home since 1875 to the United States Courts in the State of Oregon and is currently the Oregon home for the United States Court of Appeals for the Ninth Circuit. Pioneer Courthouse is the second-oldest federal courthouse west of the Mississippi River.
Participants will learn about the architecture and history of the building from 1875 through its seismic upgrade in 2003/2005. Participants will see Portland, past and present, from the windows of the cupola and be able to view documents such as the Magna Carta (1215) and the Civil Rights Act that helped shape history.
Underground Portland Walking Tour
This guided tour seeks to expose the sins of Portland's past as Participants explore Old Town and Chinatown. Participants will actually view the remains of the physical underground tunnels, as well as, learn about the subcultural underground, political underground and immoral underground of the city's sordid history, and expose the myths behind the legends of the so-called "Shanghai Tunnels."
This walk is a treat for lovers of all things sinister – crime, scandal and controversial characters – on this no-holds-barred excursion into the worst Portland has to offer.
You must be able to walk approximately 1.5 miles (2.5 km) and climb 2 flights of stairs. This activity is not wheelchair accessible. The PG-13 content is not recommended for children under 11.